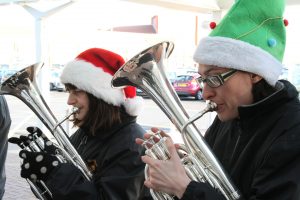 Christmas Eve is usually the start of the wind-down for most Bands, but when were approached by the Royal Victoria Hotel in Sheffield to play for a group of visitors who would be spending Christmas at the Hotel, how could we refuse?
…and how were we to know this would turn in to one of the best gigs of the year?
It quickly became apparent that our audience were up for enjoying themselves, and a bit of banter between David (our MD), the audience and the Band soon got the atmosphere relaxed and the wisecracks flowing. The punch the audience had been imbibing before the concert might have helped a bit as well!
The end result was that everyone went home with smiles on faces… the audience, the band and the hotel management with several of the audience coming up to the band at the end of the concert to personally thank members for giving up their Christmas Eves and complimenting us on the entertainment provided.