A great day in Queens Park
|
Despite a da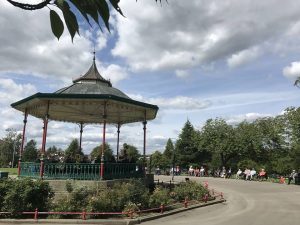 mp start to August, the sun payed us a visit yesterday in time for our concert in Queens Park, Chesterfield. As you can see, it was a beautiful day and a good crowd cam out to listen to some of our favourite music. The audience were entertained with everything from Sinatra and Swing to Adele and the Proclaimers and a special mention to our tuba team with their feature piece, the Munsters Theme. All our soloists did us proud – Dan, Keith, Helen, Rodney, Ken and John.
Finally, a massive thanks to our deps for the day: Jo, Martin and Lucy, on cornet, Helen and Nick on trombone.
Check out our events page to see where we're playing next – it would be great to see you there.